The Society of St. Andrew (SoSA) is the nation's largest and oldest gleaning network. More than 40 years ago, two families committed to living together in a Christian community, focused on "simpler living."
Sharing a homestead and calling themselves "The Society of St. Andrew," they prayed, studied, and worked together—raising crops, cattle, sheep, and their children. They lived modestly and traveled their state of Virginia reminding all who would listen that, regardless of background, we have a sacred responsibility to care for each other and the whole of creation.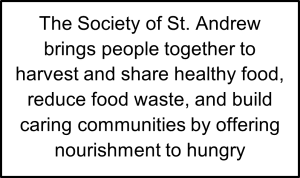 Since 1979, The Society of St. Andrew (SoSA) has adapted to the needs and opportunities discovered, while also staying true to its core beliefs around addressing the twofold issues of food waste and food insecurity.
Today, SoSA and its partners work together across the United States, applying common-sense solutions to reduce (prevent) food waste and end hunger for millions of people.
Gleaning farm fields after the commercial harvest is a large source of fresh food donated through SoSA's network. Gleaning events are scheduled after farmers discover they overlooked items after the harvest or simply had more than they could sell.
Other times, farmers deem a field not worth harvesting due to market fluctuations, weather conditions, or a host of other factors beyond their control. In each situation, farmers eagerly invite SoSA gleaners to share in their wealth of good food, literally lying around in the fields.
SoSA's volunteers are organized and deployed into fields almost daily to hand pick, dig, or gather this food for the many hunger relief agencies and communities struggling to keep up with the rising needs.
Occasionally, farmers have picked, packed, and shipped food across the country only to find it rejected for aesthetic reasons. In this case, they still contact SoSA to assist with redirecting that food to nearby agencies that can put it to good use without waste. This is when SoSA hosts "crop drops" and other large food distribution events.
In recent years, as opportunities present themselves, SoSA's volunteers and community champions have been diversifying their methods of food rescue to include: gleaning farmers markets, backyard gardens, edible landscaping, and even public lands— anywhere good food can be found. The goal is to simply make the best use of any and all food that is fit to eat.
While the methods and processes have evolved, the core values have not. At the heart of every SoSA endeavor is the focus on bringing people together, building communities, making the best use of all resources (food, dollars, and time), and collaborating.
In fact, it's that spirit of collaboration that sets SoSA apart in its field. SoSA staff, volunteers, and partners actively seek local community leaders at the grassroots level. It's often the case that locals know the needs, opportunities, and challenges best. By partnering alongside pre-existing organizations, SoSA strives to reduce inefficient redundancies, and competition, and promote a communal mindset.
This community-focused approach goes back to the founding families. They believed in the incredibly effective results of people living simply, working together, and sharing what's available.
It's possible there's an opportunity to partner with SoSA in your area. Whether it's support, leadership, or food— SoSA actively seeks new partnerships in new locations to share more food and serve more people.
By working together efficiently, we can be better prepared to respond rapidly when surplus food is discovered and time is of the essence. Oftentimes, food rescued in the morning can be on the dinner tables of families in need by evening.
Thanks to the many partners and participants that comprise the many branches of SoSA's nationwide network.